Billiard Engineering's "QuicSlick Shaft Maintenance System" is a conformal burnishing block for your wooden shaft. We utilize waterproof reusable micron rated films specifically selected to produce a clean polished shaft every time it's used.
"I like it! It's pretty cool." - Jeanette Lee
Watch Jeanette Lee try out The Sleeve
(Jeanette Lee tried The Sleeve, at the 2016 West Coast Challenge.  Her use of the Sleeve, and her comments about it, were unsolicited.  Billiard Engineering's vendor booth was next to her challenge table.)
To thank Jeanette for all she does for the sport, Billiard Engineering will donate 10% of the purchase price of each Sleeve to the Black Widow Foundation to support its Junior Camp Program.  We believe there is no better way to support the sport of billiards than by providing mentors to our young billiard players.  Many of the Pro players participate in the mentoring program and we want to help.
Read more about the Black Widow Foundation here.
The Sleeve is Here! Now is Your Chance to Be the First to Own One.
Take your game to the next level now
Get The Sleeve HERE!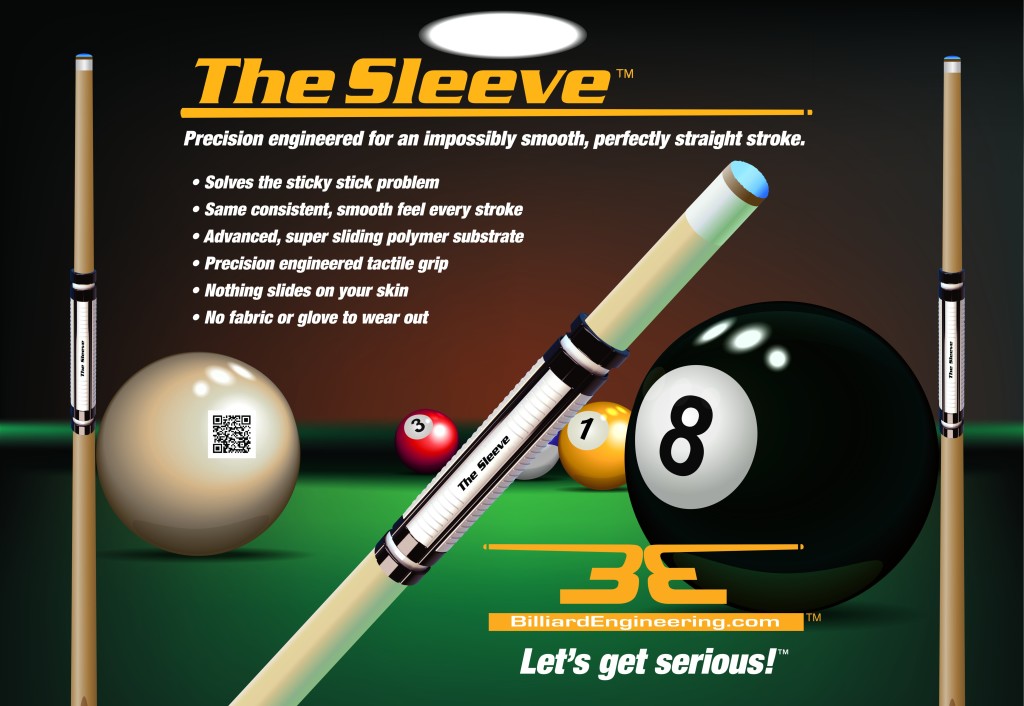 Tired of sweaty hands? Do you lose concentration when your finger feels the little dent in your cue stick? Then ...
"Let's Get Serious!"
The only real alternative to the billiard glove. No more sticky cues or soggy gloves.
Check us out on Facebook, signup for our Newsletter, or stay updated with our blog.
League Play
The Sleeve is Approved for League Play
The Sleeve is approved for use in most major pool leagues including the APA, BCA, ACS, USAPL, and all CSI events.
Head on over to our store and be the first to own one of the most revolutionary products in billiards today!